Opening film: Where we live – by Sotiris Goritsas
Wednesday, March 29th 2023, 7:30 p.m., Hall 1, International premiere, director & special guests present, surprise act before the film, Q & A after the screening
Repetition: Friday, March 31st 2023, 5:30 p.m., Hall 1
-> Tickets available soon
The film tells the story of a young lawyer's birthday round the clock, as he tries to untangle the tangle of his obligations – those of employee, son, lover, friend; the small feat that each day requires until he reaches the end of his life. A tangle he inherited from his parents' "glorious" generation. But unlike those who always had someone else "to blame", he can't afford to worry about that, but rather how he will manage to survive. The adventure of a not-at-all brave cowboy forced to cross the modern-day Far West.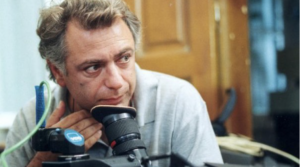 Sotiris Goritsas
Sotiris Goritsas was born in 1955 in Athens. He is a Greek film director. He has also worked in advertising. He studied economics at ASOEE (now the University of Economics) and cinema at the London International Film School (LIFS) in London. From 1985 to 1988, he directed over 25 documentaries for the public television channel ET1, for the programmes ERT in Northern Greece and Periscope. His films have been presented in international competition festivals (Cannes, Tokyo, Montreal, Chicago, Amiens, Cairo etc.), where they have received awards and distinctions for their script and direction. His first medium-length film Despina was awarded in 1990 as the best film at the Thessaloniki International Film Festival. His first feature film, From the Snow, won the Golden Alexander Award at the 1993 Thessaloniki International Film Festival. His second film Valkanizater (1997) was a commercial success, which marked the beginning of the public's return to Greek film. His film Welcome to All Saints was awarded in 2011 as the Best Film at the Los Angeles Film Festival and by the Greek Film Academy for its actors and editing.
Among his regular collaborators is Nikos Portokaloglou who has composed most of his films' soundtracks, many of which have become commercial hits. He is a founding member of the Greek Film Academy and has also participated in script review committees of both the Greek Film Centre and the Hellenic broadcaster ERT.