TRIBUTE LGBTQI+: The Tilos' Weddings – by Panagiotis Evangelidis
Friday, April 1st, 8 p.m., Hall 2, international premiere, screening together with the film Friends & Benefits, both directors present, Q & A after the screening

repetition: Sunday, April 3rd, 5:30 p.m., Hall 3, screening together with the film Friends & Benefits, both directors present,
Q&A after the screening
-> buy your ticket here!
In the year 2008, the mayor of the small island of Tilos in the Aegean Sea agreed to perform the first gay and lesbian civil marriages ever done in Greece. And this in spite of existing opposition and especially the publicly expressed warning against it from Greece's Attorney General. So, in June of the same year, a lesbian and a gay couple were the first ever in Greece to celebrate their civil union. The film follows the story of these two civil marriages from material that was shot then ad hoc as well as the gay Pride of the same year, press conferences and other demonstrations concerning the same subject.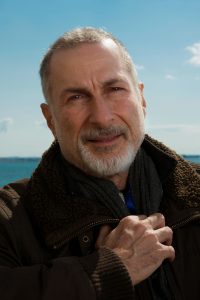 – Chip and Ovi (2005), 3rd Prize in the Docfest Chalkida Documentary Festival

– The Life and Death of Celso Junior (2007)
– They Glow in the Dark (2014), FIPRESCI Prize in the Thessaloniki Documentary Film Festival
– Pure Life (2017)
– Irving Park (2019), Mermaid Award in the Thessaloniki Documentary Film Festival