TRIBUTE LGBTQI+: Mr. Dimitris & Mrs. Dimitroula – by Tzeli Hadjidimitriou
Saturday, April 2nd, 9:30 p.m., Hall 1, German premiere, screening together with the film The Oleanders

(director of The Oleanders present, Q&A after the end of the screenings)
-> buy your ticket here!
Dimitris lives her life in Skala Sikamineas, the conservative Greek fishing village, where she was born. She nursed her dying parents and now lives alone, able at last to enjoy her femininity by dancing in the street to old pop records, watched by her cat.
Misunderstood by family, but celebrated by journalists covering the refugee crisis, her resilience is captured by the camera. She recalls time spent away from Lesvos and conscription into the Greek army. Gently observed and interviewed by a Lesbian filmmaker similarly aware of what it means to grow up different in a tiny traditional community, their shared humanity and mutual respect shine through this touching biographical film.
A few words on Dimitris:
When, in 2015, thousands of refugees started arriving on the island of Lesvos on boats, foreign reporters and volunteers could not help but notice Dimitris, dressed up to the nines, strolling in the square, among worn-out faces, crying children and women wrapped in burkas. It was then that for the first time, some wanted to listen to her story.
When the tension diminished and Skala Sikamineas was out of the limelight, Dimitris was left alone once again amongst the villagers she had grown up with.
One day, in 2016, I came across Dimitris dancing in the street outside her house, just with the family cat, Dimitroula, as her audience. I got to know them both and visited them with my camera on several occasions. This is Dimitris' story, as she told it to me.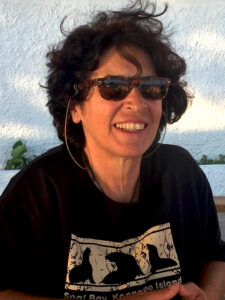 Tzeli Hadjidimitriou is an independent filmmaker, fine art photographer and writer, from Lesbos, Greece with ten published books and work shown in museums and galleries in Greece, China, Australia, Turkey, France and Italy. She studied Direction of Photography for the Cinema, in Rome. Her short films have been screened all over the world winning several awards. She is an expert on Sappho's poetry and regularly works as a consultant for BBC television on programs about Sappho and Lesvos. In her work, she uses all her experiences and capacities, aiming to give space and voice to ordinary people, who are not famous or considered extraordinary in any way, but who live their lives in simplicity, outside the daily headlines.