TRIBUTE LGBTQI+: Orfeas2021 – by FYTA
Friday, April 1st, 9:45 p.m., Hall 1, directors present, Q & A after the screening
-> buy your ticket here!
The struggles of Orfeas, the first gay prime minister of Greece, against a history of oppression in the "land of heroes". The first queer opera in Greek is a post-modern sci-fi experimental work, oscillating between baroque melodrama, DIY collage, post-internet and VR/AI aesthetics. The film is dedicated to the memory of activist Zackie Oh!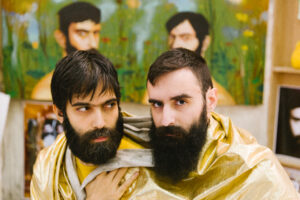 FYTA is a conceptual audiotextual performance duo, consisting of Fil Ieropoulos and Foivos Dousos. Since 2012, they have participated in a number of events as performers, but also as curators. They were founding members of the queer music label Fytini (with over 30 releases), the performance art platform Sound Acts (presenting the work of 80+ artists in Athens), as well as various other projects within the local art queer scene. They have collaborated amongst others with the Athens School of Fine Arts, ATOPOS cvc, The Freud Museum London and Athens Biennale, while their texts and papers have been presented in academic spaces in Greece and Europe.
– Golfe (2017), experimental short film

– Plants on Holiday (2019), experimental short film

– Orfeas2021 (2021)