Spotlight Vangelis Mourikis: Norway – by Yannis Veslemes

Friday, March 31st 2023, 9:30 p.m., Hall 1, German premiere, protagonist Vangelis Mourikis present, Q & A after the screening
The year is 1984 and Athens beckons. Zano arrives in the city. He is a peculiar vampire and fine dancer, who quickly gets devoured by the dark side of the capital. He wanders and what he really wants is a "warm" girl. The music of the film is by Felizol (a.k.a. Yannis Veslemes), inspired by the Greek new wave of the 80's.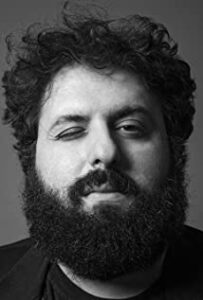 Yannis Veslemes
Yannis Veslemes was born in Athens in 1979 and studied film. He has directed feature and short films, music videos and TV ads. In 2014, his feature debut Norway premiered at the International Film Festival Karlovy Vary (KVIFF), before screening at dozens of festivals and securing distribution deals all around the world. In Greece, the film won a series of distinctions (five Hellenic Film Academy Awards), and enjoyed a successful run at cinemas, reintroducing midnight screenings to the Greek audience. In 2018, Veslemes was invited by the American production company Drafthouse Films to take part in the feature-length anthology The Field Guide to Evil, which premiered at South by Southwest and was distributed in the USA by N.EO.N. theaters and Universal home video. He is currently in pre-production for his first English-speaking film, She Loved Blossoms More (with which he participated in Sundance Istanbul Lab). As a composer known as Felizol, he has released records on many international labels (Optimo Music, Byrd Out, Invisible Inc and Inner Ear) and has composed soundtracks for numerous films (Tale 52, Wednesday 04:45, Norway, Suntan, Thread, Cosmic Candy, Third Kind and Electric Swan, among others). He is a member of the Hellenic Film Academy and a curator of The Lost Highway of Greek Cinema club.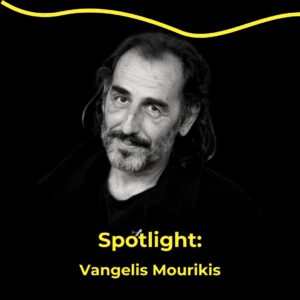 Vangelis Mourikis is an actor, scriptwriter, occasional producer of small productions in Greece and co-producer of higher-budget films. Born and raised in Greece, he attended La Trobe University, Melbourne, Australia and acting schools in Australia and elsewhere. He has acted in a few mainstream film productions as well as in a larger number of avant-garde and experimental projects by independent filmmakers and other artists. After his return to Greece in the early 90's and until today, he has acted mainly for the cinema in both feature and short films by newcomers or well-established directors. He has been honored several times as leading and supporting actor. Most of the films he has played in have participated in festival competitions or have been invited to forums, while some have been distinguished in a number of national and international film festivals.