Nikos Karouzos – Poems on the Tape Recorder – by Yannis Karpouzis
Thursday, March 31st, 8 p.m., Hall 3
-> buy your ticket here!
Left-wing and Christian, hermit and an alcoholic, damned poet Nikos Karouzos is the central figure of this hybrid-genre feature. In this essay film about a documentary, the viewer is taken through the Athenian urban landscape, the editing room, prison island of Makronissos, Stockholm and Kronstadt, following a frustrated researcher in a journey through time to restore the collective memory of Greece's most underrated poet and his tumultuous times through pictures, celluloid and testimonies. A story about life and death, Greece's troubled post-war history, and the advent of Spring.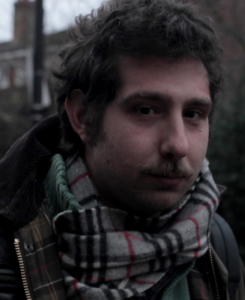 Yannis Karpouzis is a Greek based artist working with photography, film and video. He studied at the National Technical University of Athens (Diploma – thesis about modern art and the Bauhaus), Copenhagen's Technical University of Denmark DTU (Erasmus), the Fine Art School of Athens (Master of Fine Arts) and the Architecture School of Athens (Master in cultural theory). He was awarded the Newcomer Filmmaker Award by the Greek Film Center at the 22nd Thessaloniki Film Festival for his hybrid genre essay film Nikos Karouzos – Poems on the Tape Recorder. He has also received the Literature Youth Award by Anagnostis Magazine for his book Near the End of Time. For his photography project Parallel Crisis, he received the Descubrimientos prize in PHotoEspana 2015 and the Portfolio Review Prize in Athens Photo Festival 2016. Parallel Crisis and other works of Yannis have been presented to major Greek and international institutions (New museum of New York, Benaki Museum, Rencontres d' Arles, Contemporary Art Museum of Thessaloniki, Noorderlicht Photo Festival, PHotoEspana, Magnum Photos, Medphoto Festival, Photo Beijing). Yannis is an author and researcher of structural and post-structural methodology on aesthetic theories of cinema, photography and art history, as well as a major contributor to the Greek photography hub Aldebaran.