I don't like the wind, I like the sun – by Tonia Mishiali
Friday, April 1st, 8 p.m., Hall 3, German premiere, (together with the film Memento) director present, Q & A after the screening
repetition: Saturday, April 2nd, 8 p.m., Hall 3, (together with the film Memento) director present, Q & A after the screening
-> buy your ticket here!
In a common home, a group of people with intellectual disability live their usual everyday lives. They wake up and go to work. They cook and do house chores. They paint, sing and go out for coffee. Sometimes, they win gold medals in the Special Olympics. But what is important for them is to feel accepted and, above all, enjoy themselves.
The film is composed of ordinary and unobtrusive moments of the lives of 11 people with intellectual disability, defining how the achievement of independence, social inclusion and employment fuels their sense of happiness and brightens their lives.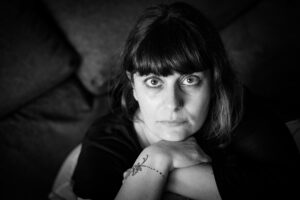 – Maya, Cyprus, feature / fiction / drama / fantasy (in development)
– Nala and Stella, Cyprus, fiction / feature / drama (in development)
– Daphne (2022), Cyprus, fiction / short / drama (in post-production)
– Perhaps I Am Already Dead (2021), 3 min, Cyprus, experimental
– I Don't Like the Wind, I Like the Sun (2020), 24 min, Cyprus, documentary
– I Can Hear My Footsteps (2020), 3 min, Cyprus, experimental
– Pause (2018), 96 min, Cyprus / Greece, drama
– Lullaby of the Butterfly (2014), 20 min, Cyprus, drama
– Dead End (2013), 15 min, Cyprus, drama