Green Sea by Angeliki Antoniou

Berlin premiere
Anna has lost her memory, but she hasn't forgotten how to cook. One night, she appears in a working-class neighborhood by a Greek harbor. There she meets the unpredictable loner Roulade and finds work and hospitality at his humble tavern. In the kitchen, amidst the scents of spices and old forgotten recipes, she struggles to reconstruct her past. Her simple but delicious food awakens memories for the regulars, who in turn help her to reconnect with herself. The story then takes an unexpected turn, when Roula suddenly stumbles upon the "Green Sea" and discovers Anna's true identity.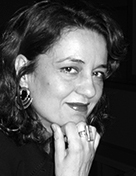 Born in Athens, studied Architecture, in which she holds a degree in Greece, and film direction at the DFFB (German Film and Television Academy in Berlin). She works as a screenwriter, director and producer. She lives between Berlin and Athens.
In 2006, she taught film direction at the Film School of Aristotle University in Thessaloniki. She is a member of the European Film Academy (EFA) and a member of the Hellenic Film Academy (EAK). She has been a member of the Hamburg Film Center and jury member in international film festivals.
She has directed shorts, feature films and documentaries. Her films have been awarded in international festivals and distributed world-wide. Her acclaimed film "Eduart" participated in over 50 festivals around the world, was selected by the EFA for the 2007 European Film Awards and it was Greece's submission to the 80th Academy Awards for the Award of Best Foreign Film in 2008.
.
She owns "Angeliki Antoniou Filmproduktion", an independent Production Company based in Berlin.