by Christos Vassilopoulos, & Dimitris Petropoulos
International premiere
After almost 400 years of slavery under the occupation of the Ottoman Empire, the Greeks revolted against the Turks in March 1821.
The odds were against them: the European powers of the time were against the revolution; the Ottoman Empire was a huge military power; the Russian Empire did not support the revolution; money and guns were scarce. Even the men who took part in the first phase of the revolution were a few thousands of poor people from Peloponnese, with no former military training.
However, one man made a difference. Theodoros Kolokotronis, the strategic mind of the Revolution, managed to establish it thanks to the first surprising victories, and to "save" it with strategic tricks, when all believed that it was over.
The "Old Man of Morea" saw his motherland free and was accused by "Bavarocracy" of high treason. A fixed trial decided for his execution.
Yet, he survived that adventure as well. He died of natural causes and his funeral triggered the first spontaneous national mourning.
"Michani tou Chronou" presents the adventurous life of a rare person, who became a legend in Europe and whose name is identified with the independence of Greece.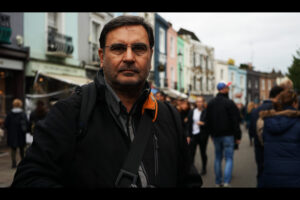 was born in Athens and works as a journalist. He studied Public and Community Health at the Technological Educational Institute of Athens (TEI). He has worked for the radio and TV station of SKAI channel, as editor in chief, director of news shows and anchorman of the prime-time news programmes of MEGA and ALPHA TV channels. He has cooperated with numerous magazines, newspapers and journalism schools. Since 2004, he has been the director and moderator of the historical research TV show "Michani tou Chronou" and has created – together with his colleagues – more than 400 documentaries screened by ALPHA channel, the Hellenic Broadcasting Corporation ERT and COSMOTE HISTORY channel. "Michani tou Chronou" has its own website as well, with almost two million views per month in Greece and Cyprus.
Christos Vasilopoulos was honoured with the Award for the Promotion of Journalism from "Athanassios Botsis" Foundation, which is the highest journalism award in Greece, and has also published two books.
Dimitris Petropoulos
is a journalist. He studied journalism and started his career at the radio station of SKAI channel. He has worked in several radio stations and TV channels and has also cooperated with magazines and newspapers. As a freelance reporter, he has covered important social and political events in Greece and abroad. He was sent as war correspondent to Balkan countries, the Middle East and Asia. He is the editor in chief of the TV show "Michani tou Chronou".