EMERGING GREEKS COMPETITION: Silence 6-9 – by Christos Passalis
German premiere
Director present, Q & A after the screening
Aris and Anna meet one evening in a half-abandoned town surrounded by antennas, which emit strange sounds and enable the transmission of human voices. In this bizarre, dreamlike world, where things don't seem quite right – including people's behaviour – these two solitary souls gradually start developing feelings for one another.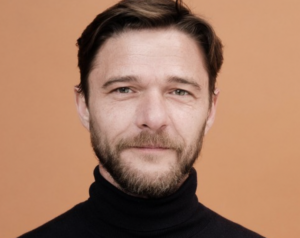 Christos Passalis was born in 1978 in Thessaloniki and graduated from the Drama School of the National Theatre of Northern Greece. In 2004, he founded the Athens-based Blitz Theatre Group, for which he worked as a writer, director and actor. The group has performed at the Théâtre de la Ville in Paris, the Berlin Schaubühne, the Festival d' Avignon and various other theatre festivals. Since 2019, he has been directing together with Aggeliki Papoulia at the Lucerne Theater.
He has participated as an actor in: Yorgos Lanthimos' 2009 film Dogtooth, which was nominated for Best Foreign Language Film at the 83rd Academy Awards; the historical drama Black Field by Vardis Marinakis; the thrillers Homeland and The Miracle in the Sea by Sargasso by Syllas Tzoumerkas; and the film drama History's Future by Fiona Tan.
His film directorial debut The City and the City (in co-direction with Syllas Tzoumerkas) was commissioned as a 70-minute project by the Thessaloniki International Film Festival and the Metropolitan Organization of Museums of Visual Arts of Thessaloniki. It premiered in February 2022 at the Berlin International Film Festival, where the film was shown in the Encounters section.