Friends & Benefits – by Maria Katsikadakou a.k.a. Maria Cyber
Friday, April 1st, 8 p.m., Hall 2, German premiere, screening together with the film The Tilos' Weddings, both directors present, Q&A after the end of the films

repetition: Sunday, April 3rd, 5:30 p.m., Hall 3, screening together with the film The Tilos' Weddings, both directors present, Q&A after the end of the films
 -> buy your ticket here!
Butch, dyke, with tattoos and a skinny green mohawk, inseparable from her wheelchair, she would roam around Camden with her lesbian posse. Diagnosed with MS (multiple sclerosis) since her late teens, she has lived her life in a way many able-bodied people would covet. So, what was it that allowed her to have this quality of life despite her disability?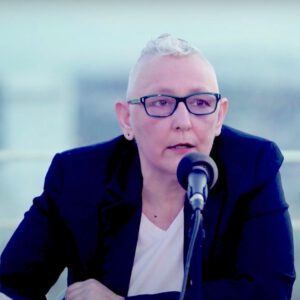 Maria Katsikadakou a.k.a. Maria Cyber
Maria Cyber is one of the first lesbian activists on the Greek LGBTQI+ scene.
She has studied photography, graphics, web design and film studies. She created the biggest portal for lesbians in Greece (www.lesbian.gr), and in 2007, she founded the Outview Film Festival: Athens International LGBTQI Film Festival, Days of Queer Cinema (www.outview.gr).
She is also a queer filmmaker directing short non-budget movies, that bring kicking, inspiring queer energy to the screen.
– So Quiet: The Performativity of a Pussy (2018)
– Dildo Riot (2021)
– Friends & Benefits (2021)