Femicidio – by Nina-Maria Paschalidou
Friday, March 31st 2023, 6:00 p.m., Hall 3, German premiere
Repetition: Saturday, April 1st 2023, 8:00 p.m., Hall 3
In the past year, 105 women were killed in Italy by men who once loved them. This is not a specific Italian problem. Everywhere in the world violence against women is on the rise. India is number one on a list of 10, that includes many Middle Eastern and African countries, but also includes the USA. This problem is closer to home than one thinks…. In Italy these killings amount to 38% of all murders in the country! The numbers are chilling. One woman is murdered every three days. Nearly 70% of the women were killed by men they lived with; most of the rest were killed by former boyfriends and ex-husbands. The phenomenon has no borders and it extends from the North of Italy to the South, where the presence of the mafia reinforces these attitudes towards women, with the unwritten laws of vendettas, which specifically afflict the women in the family. The murder of women or girls by men and on account of their gender, is called femicide. Most cases of femicide involve ongoing abuse at home, threats or intimidation, sexual violence or situations where women have less power or fewer resources than their partner. Femicidio looks into femicides in Italy in the past years, and by focusing at certain cases that rocked the country, it tries to understand the reasons behind this rising phenomenon that has its roots in an overall increasing violence against women. It also examines the Italian law and its implementation, which in many cases has failed to protect these women from the fatal attacks, and explores the connection between the rise of nationalism in Italy and the rise in femicides. From the Northern cities of Vicenza and Verona to the Southern shores of Cava De Tireni and the island of Sicily, Femicidio dives into the misogynous culture of Italy and tries to understand the macho mentality that leads husbands, ex-partners, boyfriends to murder.
EVERY 3 DAYS A WOMAN WILL BE KILLED IN HER HOME
Our guide in this journey is Laura Roveri, a 28-year-old yoga teacher from Verona. On 12 April 2014, Laura was stabbed 16 times by her former boyfriend, Enrico Sganzerla, in front of the discotheque Victory. Today, her own fight to live on has turned her pain into salvation. We follow her as she confronts her past and moves powerfully into the future with wisdom and humility. Through her interaction with her new partner Mattias, who has stood by her through this life-changing experience, her lawyer and Santiago, the bodyguard who saved her, the film takes a deep look into the problems of Italian society.
Her collaboration with women's organisations and activists helps us understand the mentality of the women who be-come victims, and comprehend the importance of prevention. Laura takes us on a journey through Italy's darkest femicide stories.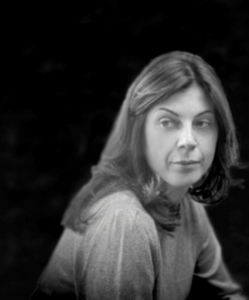 Nina-Maria Paschalidou is a documentary filmmaker, journalist, and producer. For years Nina has been an international reporter for To Vima and Kathimerini, the two major newspapers in Greece. From 2007 to 2011 she was a producer for Exandas Documentary Series, an Athens-based documentary group that has won many international awards. Her web documentary The Prism GR2011, www.theprism.tv, a multimedia project and film about the Greek Crisis was an Official Selection at IDFA 2011, a Finalist at the Picture of the Year Awards 2012, and won a Webby Award in 2012. Her film Kismet, co-produced with Al Jazeera and ARTE and other networks nominated for the IDFA 2013 Best Mid-Length Documentary Award, the PRIX EUROPA 2014 Best European Intercultural Television Programme Award (TV IRIS) and the VIII Ahmed Attia Award 2014 at Medimed. She is also the owner of Forest Troop, www.foresttroop.com, an independent documentary group and co-owner of www.protagon.gr, a news blog created by prominent Greek journalists. She received her undergraduate degree in Mass Communications at Boston University and her graduate degree in Entrepreneurship at Bentley University. She has studied film at La Femis in Paris and at the NYU in New York. She is also a Fellow in the School of Foreign Service at Georgetown University, in Washington D.C.